CHENNAI POWER CUT HINTS TOWARDS THE FUTURE OF FOSSIL FUELS
Energy has become a daily necessity for modern society, and electricity has become an inalienable aspect of civilization. Technology and the capability of humans regarding energy production have improved, but even in the contemporary world, humans mostly rely on fossil fuels for energy production. However, fossil fuels are available in a limited amount on earth, and due to unprecedented exploitation, fossil fuels will not be available in the future. The energy demand is increasing with development, and major economies in the modern world are driven by energy. India is a huge country, and one-third population of the world lives in India. Therefore, the energy demand is constantly growing in India; however, global crises such as the Russia-Ukraine war have increased geopolitical tensions, and fossil fuel prices have increased significantly.
Due to increased demand and huge price increases, the fossil fuel energy crisis has become challenging in developing countries like India. Consequently, in India, many cities have faced power cuts; Chennai is one of the most affected cities that has faced long power cuts, forcing the country to look for alternatives. India has already started to invest in renewable energies to reduce the dependency on fossil fuels. Solar power is considered an effective alternative to fossil fuels, and by utilising solar power, the fossil fuel could be replaced. India has announced that for the fight against climate change, fifty per cent of its energy needs will be fulfilled from renewable sources by 2030. Further, India has announced that by 2070 the county will become a net zero emission which could be considered a huge contribution to the fight against global warming and climate change.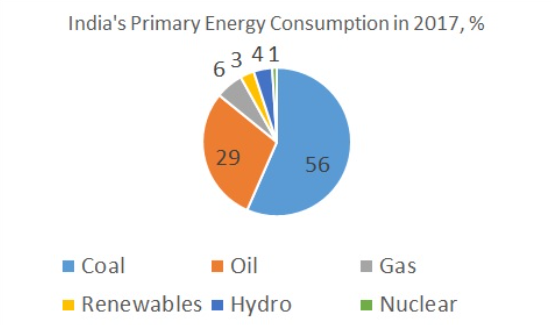 India is a power-hungry country, and the need for energy is constantly increasing with the growing economy. India is the third largest energy importer in the world, which could be considered a security challenge for India. India's economic growth is among the highest in India, helping its citizens to come out of poverty; with economic growth, urbanisation is also rapidly growing. Moreover, with increasing economic activities, the energy demand is constantly increasing; however, the country mostly relies on fossil fuels to fulfil its energy needs. Therefore, a huge investment in renewable energy production is required to help India become a net zero emission.
Moreover, the power cut in the city of Chennai hints that in the future, India will adopt significant transactions to shift from fossil fuel to renewable energy to meet its energy needs. On the other hand, it has also been observed that private entities are also entering into renewable energy production in India, organizations such as Adani, Reliance, and Tata have already made huge investments in renewable energy production which will help the country to reduce the dependency on fossil fuel, and it will also help the county to ensure rapid transaction from fossil fuel to renewable sources for energy production.