Bangladesh Women Football Team Won the SAFF Championship.
The Overview
The Bangladesh Women's football team has achieved a remarkable victory as they won their very first SAFF championship title. This unstoppable football team has created history, and skipper Sabina Khatun remarks on it. She became the top scorer in the tournament with a total of 8 goals, including two hat-tricks. One, she scored in the group stage against Pakistan, and in the other, she scored against the mighty Bhutanese national women's Team in the Semi-Final. She also won the prize of most valuable player of the tournament. 
Bangladeshi Prime Minister Sheikh Hasina and President Mohammad Abdul Hamid sent their congratulatory message for their hard work and perseverance that became the key to their success.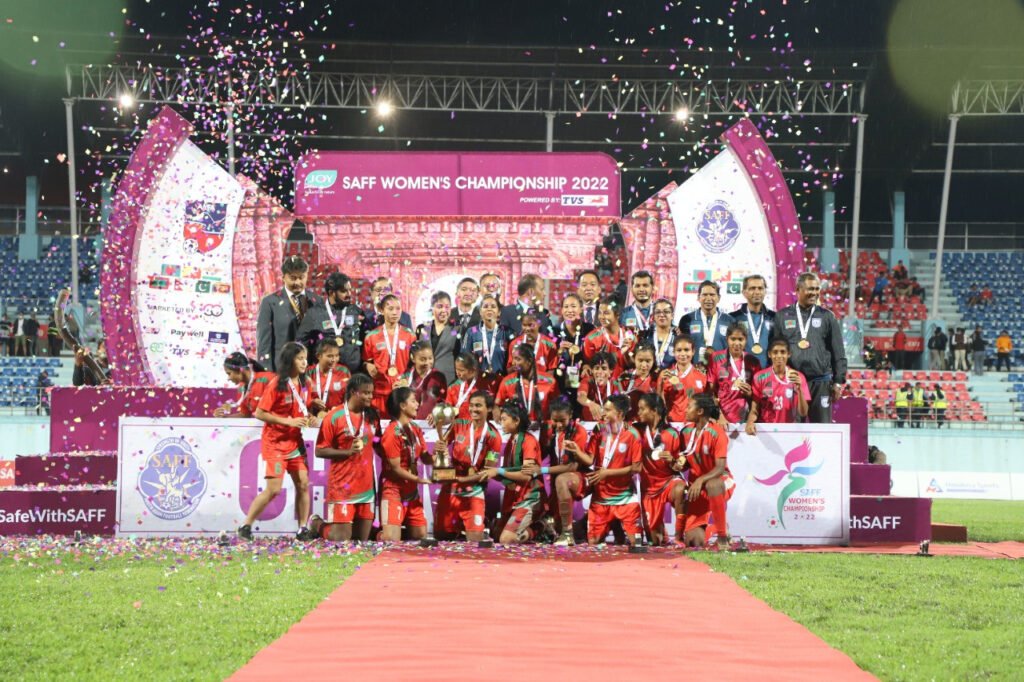 The scenario of the Final Match:
They glorified their nation by beating Nepal's hosts with a score of 3-1. The final match was played between two finalists at the Dasarath Rangasala Stadium on Monday. The hosts fought well, but it was the day for the Bangladeshi footballers. Shamsunnahar scored the lead goal, and then Krishna Rani Sarkar scored a brace that helped their Team bear their maiden title in the SAFF tournament.
After taking a 2-0 lead in the first half, the winning Team created much pressure on the opponents. The opponents managed to score the comeback goal in the 72nd minute. 
Krishna scored her first goal in the 3 minutes before the whistle of the first half was blown, and again she struck to secure her Team's victory in the 77th minute with the assist of Monika Chakma. The Nepalese football team could not make a comeback after this goal. 
Outstanding improvement of the Team:
Bangladesh had previously qualified for the final in 2016 but failed to fulfil their dream of winning the title as India ultimately defeated them by 3-1. This year they appeared as champions by securing their first win against India with a score of 3-0. The Team won previous matches on age level, but this is the first time they bore away the title at the superior level. The winning Team managed to score 23 goals during the championship. They have also won the Fair play award. 
The match-winning Team's coach once said he was called mockingly "the lady coach". But he tackled these ridiculous comments and loved his work with the Female national football team of Bangladesh, and his diligence and passion for the Team paid off. He congratulated the girls for their indomitable performance throughout the tournament and paid his thanks with gratitude to BFF president Kazi Salauddin to boot. 
It is a proud moment for Bangladesh where all the people of Bangladesh pray for their nation's victory. Their Team became the second title holder after India in this biannual tournament since its inauguration in 2010.